The Red Mass Committee of Fort Worth, Texas cordially invites all attorneys, judges, public officials, and their families and staffs to attend the Red Mass on Thursday, September 17, 2015, at 5:30 p.m. at Saint Patrick Cathedral in downtown Fort Worth.
The Red Mass is an ancient tradition of the Church and Bar and is offered to invoke divine guidance and strength through the coming year. Read more about the history of the Red Mass.
A reception and guest lecture will immediately follow Mass at the Saint Patrick Parish Center adjacent to the Cathedral.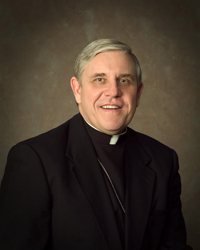 This year's guest speaker is the Most Reverend Jerome E. Listecki, Archbishop of the Catholic Archdiocese of Milwaukee. 
Archbishop Listecki was installed as archbishop of Milwaukee on January 4, 2010, by the Papal Nuncio to the United States, Archbishop Pietro Sambi. At that time, he assumed responsibility for the spiritual well-being of Catholics in the 10 counties of southeastern Wisconsin and took on the day-to-day administration of the archdiocese.
A native of Chicago, Archbishop Listecki attended St. Michael the Archangel Grammar School, Quigley Preparatory Seminary South High School and Niles College of Loyola University. He began his graduate studies at the University of St. Mary of the Lake, Mundelein Seminary in 1971, and was ordained a priest on May 14, 1975. On November 7, 2000, he was appointed auxiliary bishop of Chicago by Pope John Paul II and was ordained a bishop on January 8, 2001. In January 2002, Archbishop Listecki was named the episcopal vicar of the Vicariate 1 of the archdiocese of Chicago. In addition, Listecki is also a retired lieutenant colonel in the United States Army Reserves.
Heavy hors d'oeuvres and beverages will be served at the reception. There is no cost to attend the Mass or the reception, but
we gratefully accept donations
to underwrite the event.